Cirugia plastica Cirugia estetica
MEDICINA ESTETICA Press Releases
Argentine creates a clamp to prevent bleeding in Cosmetic Surgery - Published in the newspaper La Mañana de Cordoba on 15-09-2005.

BUENOS AIRES -
 An Argentine doctor specializing in plastic surgery designed a novel device that will illuminate and act directly on the site in which the surgeon, thus avoiding bleeding during operations.


The invention is from Dr. Marcelo Bernstein was developed based on the latest technology ultra-light diodes, which illuminate small cavities of the body and act with greater precision.

While development was on a home and has not yet been industrialized, Bernstein explained that "from now on will have aesthetic surgeons a new tool for breast implants operations of buttocks, skin and chin."

In particular, the novelty is a clip that has the ability to directly illuminate the site where the surgeon operates, making a correct electro coagulation of bleeding vessels and prevent bleeding, "he explained. The instrument, similar to a hair clip, a diode is less than five millimeters in size, enabling it to be used in highly complex operations, such as thoracic and cardiovascular.

"The powerful light illuminates exactly where you will act," the doctor, it could replace the "Frontoluz" the light that is placed on the head surgeon, also an Argentine invention, the distinguished Ricardo Finochietto world. 

Unnamed, the new device was presented at the Second International Scientific Congress of Aesthetics, held up on Tuesday in Buenos Aires and was attended by leading physicians around the world.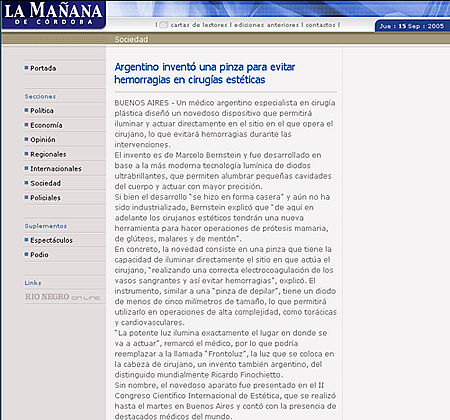 CURSOS DE IMAGEN PERSONAL Press Releases
Contact Us
Buenos Aires - Argentina
For more information and pricing Click Here.
Dr Bernstein's Assistants will contact you as soon as possible.
Or send us an email to:
info@nuevabelleza.com.ar
TESTIMONIALS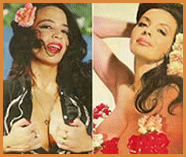 Read what some of the patients write to share their joy after surgery!
Face Procedures


Recommend this Page
Bookmark this page!
Magazine Appearances and Articles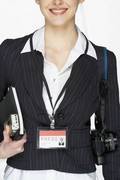 Have you seen all the media appearances of Dr. Bernstein and The Awards from the International Societies of Plastic Surgery?
Why Select a Board-Certified Plastic Surgeon?

Read how patients must select their Plastic Surgeons.
Non Surgical Additional
Botox ®

Facial Filler

Deep Peeling

Lips Augmentation